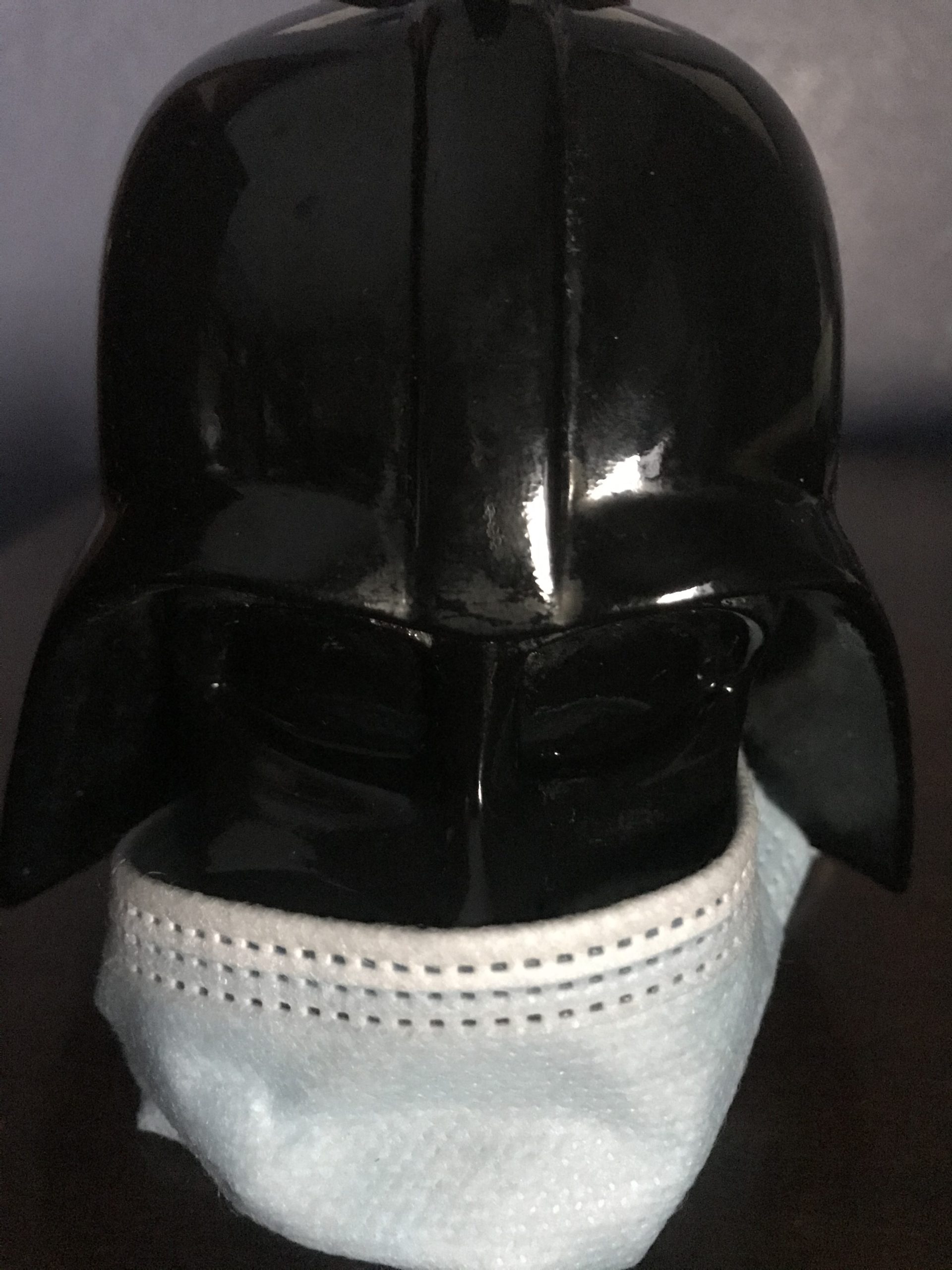 Did Darth Vader Have Covid?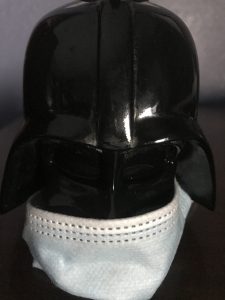 Mask or no-mask?  Do they protect us?  Do they protect others from us?  Or do they just make us all look and sound like *Darth Vader?  These seem to be the questions on our minds and in a good portion of our social media feeds.  There are good arguments, studies, experts, and statistics from both sides – all screaming at us (with and without masks on).  How are we ever to settle the issue?
Maybe, we are not asking the right questions.  Maybe, the question should be "how do we ensure that we are breathing safe air?"  Maybe, a mask with all it's controversy, has very little to do with the problem or the solution to the problem.  Below is some plain *Obi Wan Kenobi logic about air quality that might be worth considering if you are frustrated like me.
When it comes to the air we breathe we have some well-established science that has been around long before COVID-19.  Air in an enclosed indoor environment has issues, especially where lots of people are breathing the same air for an extended period.  Not only does the air become polluted with virus, bacteria, and other pathogens, it is also full of particulates, allergens, VOCs (volatile organic compounds) and odors.  When we keep breathing the same stale air for extended periods, CO2 levels go up and affect our cognitive abilities.  *Not even a Tusken Raider would want to be in that environment!  How can we make our indoor air safer to breathe regardless of whether or not we are wearing a mask?  *Search your feelings, Luke!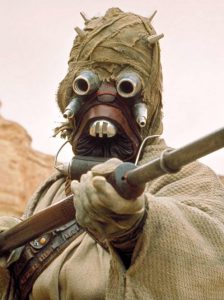 Managing indoor air quality comes down to three things:  Filtration. Replenishment. Purification.
Most homes, businesses, *Star Destroyers, and indoor public places have air handling systems with filters of various grades.  Most filters are not changed often enough, and most people do spend the money to get the higher quality filters.  Did you know that filters are rated on a MERV (Minimum Efficiency Reporting Value) scale?  The higher the MERV rating, the more effective the filter is at trapping finer particles in the air.  Typical home and commercial HVAC systems use filters with MERV ratings of 8 or lower.  Hospital Laboratories use filters up to MERV 12.  General surgery and hospitals rooms use up to MERVE 16.  Clean rooms, *Carbon Freeze Chambers, and specialty surgery areas might have as high as MERVE 20 filters.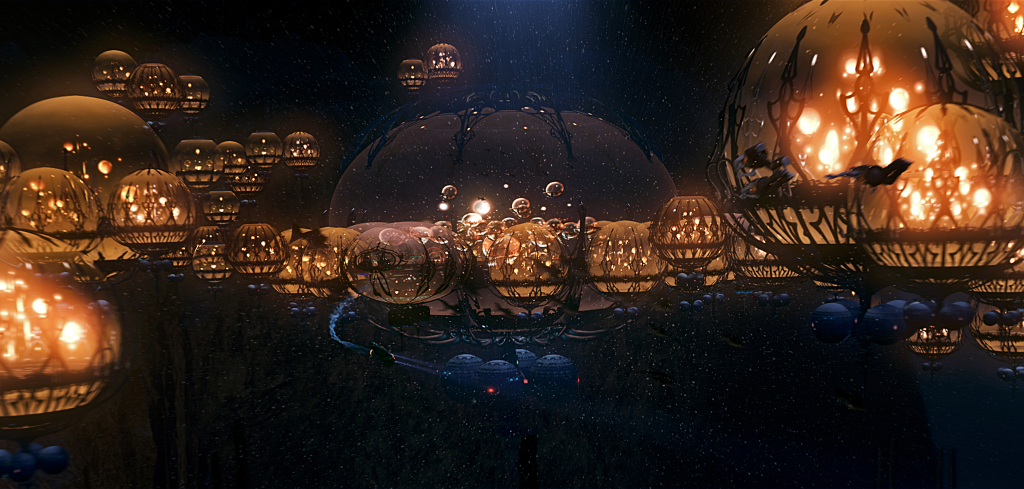 *It's a trap!  To trap a corona family virus carrier, a filter must be able to capture particles less than 0.30 microns in size.  That equates to MERVE 17 or higher!  Face masks might be considered as a low-grade filter on the air handling system of your body.   The variety of homemade, or commercially produced, or *imperial mandated face coverings have a wide range of effectiveness, depending on the material and how it is fitted around the mouth and nose.  Regardless, the point of this discussion is that if we can create clean air before it ever reaches a mask, we are much further ahead.  Filtering air through the built-in air handling systems in a building is like placing a *Darth Vader helmet around the entire structure.  But even high efficiency filters in air handling systems have limitations.  It may take many hours for all the air in a home, commercial building, or *Otoh Gunga to get circulated through the filter.  We must use other methods in conjunction with proper filters to get our indoor air cleaned faster.
Replenishment of polluted inside air with clean outside air is an effective way to improve the quality of the indoor air we are breathing.  ASHRAE (American Society of Heating, Refrigeration, and Air-conditioning Engineers) recommends 25% fresh air replenishment in HVAC systems.  Most home and office systems are not designed to bring in any outside air.  So, unless you live in *a treehouse on the forest moon of Endor, your system probably relies on open doors and windows to replenish fresh air.  This does not happen much in the hottest and coldest times of year *(especially on Tatooine when both suns are out and on Hoth after they shut the main bay door), so the HVAC units end up circulating the same stale air through the building, gradually heating or cooling it as the air passes through the furnace or cooling coils multiple times.  Bringing in outside *Hoth or Tatooine air generally means the heating or cooling systems have to work harder and are less efficient.  Even still, it may be worth it to not have the air in your home make you feel like you are in a *bantha stable.  Retrofitting a system that does not bring in fresh air into one that has *Cloud City intake ports can also be costly and intrusive to a building.  Let's see what other options we have.
Purification is an effective, relatively low cost and easy to install method of improving indoor air quality. It reduces the need for air replenishment and thereby makes heating and cooling systems more efficient.  Two popular ways of purifying air today are UVC (Ultraviolet – C Radiation) and NPBI (Needlepoint Bipolar Ionization).  Both are employed on the *Rebel Medical Frigate.
UVC – Prolonged exposure to high intensity Ultraviolet Light kills most living things including virus, bacteria, mold, *Mynocks, etc.  Since UV can also kill human, plant, *Wookie, and animal cells, the lamps must be used in a contained environment.  Portable lamps are available, but must be operated in unoccupied spaces, and exposure times can be an hour or more (depending on equipment and intensity) to ensure high kill rates of pathogens.  For UVC applications in an entire building, units are most effective when installed in the ductwork of air handling systems.  As air is blown across a UVC lamp, the bad actors in the air are exposed to the high intensity ultraviolet light, and hopefully are killed or deactivated.  Like filtration and Replenishment, the limitation of UVC is that it requires all the air in a room, building or *Millennium Falcon to be cycled through the system before the purification effects start to be realized.  Since exposure time is crucial, UVC systems must be carefully designed, considering flow rates and air volumes in the duct, or else many pathogens and pollutants may slip though without being exposed long enough to kill them.  Another limitation of UVC is that the bulbs eventually burn out and need to be replaced.  Since it is hard to know if the bulb is working or not, most manufactures recommend replacing the bulb after 1 or 2 years *(or at the same service interval as your hyperdrive motivator) regardless.
NPBI – Ionization is a proven method of purifying air of contaminants and has been used since *a long time ago in a galaxy far far away.  The science behind ionization is that charged atoms or molecules (ions) are attracted to oppositely charged particles and bond with them.  This ionic bond does 2 things.
First it causes agglomeration of particles.  When clumps of particles agglomerate together, they become large and heavy (relative to individual particles) enough to either fall to the ground or get easily caught in an air handling filter (or a face mask).  It is generally accepted that the MERV rating of a filter goes up 5 levels in an ionized environment.  This means an inexpensive MERV 8 filter is now acting as a hospital grade MERV 13 filter.  *Basically, if a weak-minded Storm Trooper with an ion cannon would have agglomerated all the proton torpedoes, the cluster would not have fit through the Death Star exhaust port and Emperor Palpatine would still be ruling the galaxy today.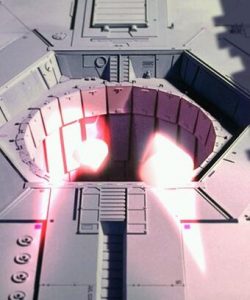 Secondly, ions bond with viruses, and other pathogens which blocks them from bonding with other cells, like in the ones in our bodies.  This process effectively deactivates the virus, rendering it unable to spread its infection.  Since the type of ions that are generated are harmless to humans, this process can be happening all around us in real time.  No need to wait for the air in a room to be recirculated or for the *space vacuum to suck all the air (along with Princess Leia Organa) out of the ship. 
Although NPBI generators, like UVC lamps, are installed in the HVAC system, they are only using the fan and duct work as a mechanism to distribute the ions through the building.  The real work is being done when the ions disperse in the air of the occupied environment, and the microscopic magic starts to happen almost instantaneously.  Ions only last about 60 seconds or less before they find something to bond with, so NPBI generators are designed to provide a continuous flood of ions into the air.  Modern generators produce up to 400 million ions per cubic centimeter per second.  Now that's a *high Midichlorian count, and a lot of potentially deactivated viruses!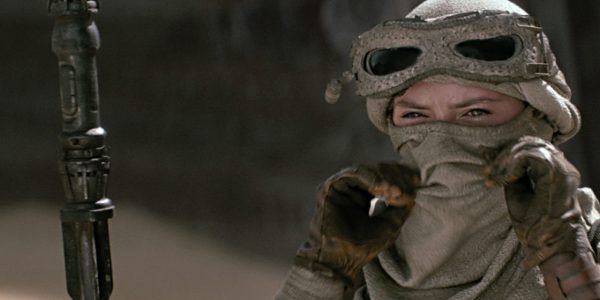 Until recently, most ionizers produced ozone as part of the ionization process which earned them the nickname "Ozone Generators" or "Ozone Machines".  It has since been discovered that ozone can be an irritant in the lungs and 'Ozone Machines' have declined in popularity.  However, new developments in the technology have enabled the generation of ions without producing ozone.  Before purchasing a portable ionizer, make sure it is an NPBI device that is certified 'ozone free' by UL (underwriters laboratory) and *the Imperial QC department.  With NPBI, consumers still get the great benefits of ions, without the negative effects of ozone.
Another advancement is the 'bipolar' part of the technology.  Ion generators can now produce both positive and negative ions at the same time.  This provides opportunities to bond with more pollutants and pathogens that also exist with both charges.  NPBI devices not only attach themselves to viruses, but are also effective in eliminating smoke, odors, bacteria, mold, allergens, VOC's, *annoying droids, and other air contaminants.  Some NPBI users even complain that the 'good smells' are eliminated.  *(turn off the ion cannon when Yoda is cooking fresh root-leaf stew!).
When it comes to clean air, there are no guarantees.  Pollutants, pathogens, allergens, VOCs, and other bad actors are constantly being produced and contaminating the air around us.  The odds of cleaning 100% of everything dangerous out of the air are pretty slim – *but never tell me the odds.  By utilizing the methods discussed above, we can make huge improvements in the quality of the air we breathe in controlled indoor environments.  When Filtration, Replenishment, and Purification are applied correctly, it makes the question of Mask or No Mask somewhat moot.  Taking extra precautions by adding a filter to your mouth and nose is never a bad idea, but if that is the best or only preventative action, we are taking to slow the spread of illness, then we are missing a much larger part of the solution.
*If I am facing down a battalion of IG 88 assassin droids with nothing but a Vader mask, it won't be long before I am vaporized.  Why not put on the beskar armor and grab the light saber, and deflector shield that are right in front of me?  I may still have some vulnerable spots, but at least most of the blaster bolts are being deflected before they get to my helmet!
Stay safe out there wherever you are in the galaxy, *and may the force be in your air!
*All photos and written references to Star Wars characters, movies, stories, or other productions are the property of Lucasfilm L.T.D. LLC.